Guided Training (checklists) Overview​
Please Notice
This feature may not be available to you through your LMS or due to your administration level. For more information, contact your LMS administrator or us at sales@datafisher.com
Guided Training, or Checklists, can be used to manage the training of different personnel by adding tasks to different lists (called checklists) that can be created, assigned to specific users with assigned trainers for each task, and monitored by managers for their team.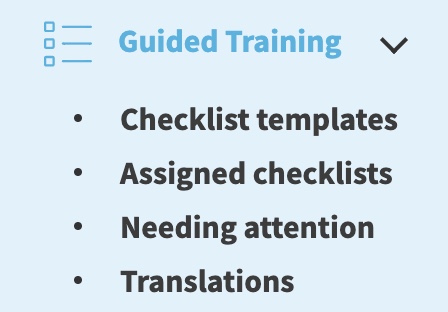 Click on the Guided Training tab in the admin navigation panel. A drop-down list will appear with four options: checklist templates, assigned checklists, needing attention, and translations. When Guided Training is clicked, it will navigate automatically to the Checklist Templates page.
note
To assign users to a checklist, you must have the manager view, My Team on the navigation panel on the left side of the Admin Console . This feature shows when more than two users have you as their manager, which can be done by adding your e-mail in each user's details, under the manager_email field. If you already have a team and cannot see "My Team" in the navigation panel, try to logout and login again to your admin account. To read more about the Manager View, click here.